I want to help people on catching the FR/LG (KANTO) legends easyier.We will supply locations and some really good tips.
-A really good tip is if you have 2 gbas and a link cord save your master ball and trade it to hoen region and clone the master ball and trade back 6 of em and catch all the legeonds with it.
-Dont have a link cord or gbas?Catch all the bird with ultra balls because there really not that hard to catch.And catch mewtwo in a ultra ball this may take a while but it is best you save your master ball for the legendary dog at the end.When your legendary dog finaly appears just master ball it and catch it if you dont it will use roar and you will have to find it again
New tips being added as we get them.
Normal FR/LG Legendarys
Catching the Legendary Birds
Capturing them,
you need to lower their HP as low as you can. This will make it easy to catch . Now put it into sleep or paralyse it and this should make it even easyier to catch.It is normal that the Legendary Birds don't let them capture so easily, but if you keep throwing Ultra Balls at them, they will eventually be captured. So make sure you carry enough Ultra Balls with you (between 20 and 30 will be enough).
Saving
, before battling one of the Birds, make sure you save the game. If the capturing process would fail, you can still return to this returned game and start the capturing all over again.
Moltress
Zapdos
Articuno
Capturing Mewtwo
Finding it
, First off he lies within the CERULEAN CAVE. In order to gain acces into there, you must have the
national dex. Which means you beat the pokemon league with 60 different pokemon caught on your
pokedex. Then you must have defeated team rocket on five island. Once in the cave go up till you hit water. SURF left and down until you hit land. Go
left and up the stairs. Keep on that path and until you can go down some stairs and up a ladder.
Then go down the next ladder. Follow the path right and down until you can go back up some stairs
go down that path until you reach water. SURF across to the small platform.
Save
, once you get to mewtwo save so you can keep trying to capture it if something goes wrong.
Capturing Mewtwo
, once you have reached mewtwo if you are saving your master ball for your legendary dog then you will have to ultra ball it.First off get a pokemon that is about level 55-60 that is supereffective against mewtwo.Second get a pokemon that can put mewtwo to sleep. Now start damaging it and when its got about 1/4 health left start trying to put it to sleep.Once its a sleep keep throwing ultra balls until you capture it.If it wakes up just put it back to sleep.I think you can only capture mewtwo in an ultra ball if it is asleep.
Catching Your Legendary Dog
Get it in your Pokedex.
This is the most useful thing you can do. Trade one with a friend or wait until it pops up randomly on your post-game adventure.
Preparing.
The first pokemon in your party should be something with Shadow Tag, such as Wobbufet. You need to prevent the legendary from escaping. Alternatively you can use a Crobat with Mean Look or a Sudowoodo with Block. Make sure this pokemon is less than Level 50.
Finding it.
This is easy. Find a route with a lot of grass and weak Pokemon. Somewhere near Pewter City is a good bet. Walk into your chosen route and check the Pokemon's location with your Pokedex. If it says its not there, repeat. Keep doing this until its in the same route as you. This is a matter of luck and persistence.
Save.
Saving means you can try again. If it runs or faints, you can start over and keep looking for it.
Battling it.
When you're ready, go look for it. To make things easier you can use a Max Repel, but this only works if your lead pokemon is of a lower level than the legendary. This will only help to save time, it won't make the legendary more common. Once you've met it, the first thing you have to do is stop it running. If you're using Wobbufet, you've already done this, but otherwise use Block or Mean Look before it has a chance to run. Once its trapped, it becomes a normal legendary battle. Whittle its health away with False Swipe or other weak moves until its on very low health. Then Ultra Balls relentlessly. Eventually you'll catch it.
Master Ball.
Using the master ball is the simplest way to catch it. Once you've met it, forget about trapping it or lowering its health, immediately throw the Master Ball. This is a guaranteed method of catching your legendary dog.Entei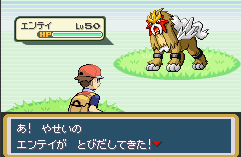 Raikou
Suicune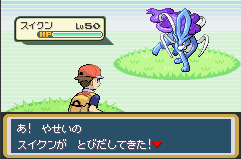 Events
Capturing the Events
(comming soon)
Mew
(sorry no FR/LG pic)
Ho-Oh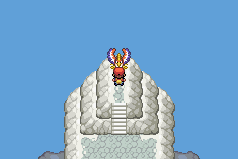 Lugia
Deoxys